Sales and Customer Service
·
Stockholm
·
Hybrid Remote
Customer Support Handler
Customer Support Handlers till vårt nordiska kundcenter - Heltid
Välkommen till Bluestep Bank – En bolånebank för fler!
Om Bluestep Bank
Vi på Bluestep Bank brinner för att fler människor ska kunna ta bolån. Att planer, drömmar och mål ska kunna gå i uppfyllelse oavsett vem man är. Vårt mål är att ansvarfullt öka finansiell inkludering i samhället genom att bejaka våra kunders olikheter och fokusera på deras framtida potential.
Hos oss blir du del av en inkluderande och öppensinnad kultur, som präglas av passion och innovation, där vi vågar utmana och förändra. Vi tror på värdet av inkludering och värdet av olika perspektiv. För rätt person finns det goda möjligheter till en spännande karriär.
Välkommen som du är.

Om rollen
Som Customer Support Handler ger du service via telefon, chatt och e-mail. Du hjälper våra befintliga kunder och en viktig del av jobbet är att aktivt arbeta mot att driva tillväxt och kundlojalitet.
Rollen innebär att man behöver samarbeta med flera avdelningar inom Bluestep och det är viktigt med ett lösningsorienterat förhållningssätt. Vi är ett familjärt gäng och har en härlig teamkänsla, både inom Customer Service och i hela organisationen. Ta chansen att vara med på en utvecklande resa med oss på Bluestep Bank - Välkommen som du är!
Exempel på arbetsuppgifter:
Ge service till våra kunder via inkommande och utgående samtal
Ge service till våra kunder via chatt och e-mail
Hjälpa kunder med frågor kring deras befintliga bolån
Hjälpa befintliga kunder med frågor kring lån- och sparkonton
Administrativa uppgifter kopplat till våra kundsamtal
Kompetenskrav:
Du är en god kommunikatör och drivs av att arbeta mot kunder
Kan kommunicera flytande på svenska i tal och skrift. Har du dessutom kunskaper i norska eller finska ses det som meriterande då vi arbetar nordiskt
Du har förmåga att arbeta effektivt, strukturerat och noggrant
Du gillar att arbeta mot mål och att se förbättrade resultat
Du har gymnasieutbildning eller högre
Du har erfarenhet från ett serviceyrke och har du dessutom erfarenhet från bank och finans är det mycket meriterande
Har du Swedsec-licens för bolån är det meriterande
Praktisk information:
Start: Omgående eller enligt överenskommelse
Placering: Stockholm, Sveavägen 163
Anställningsform: Tillsvidare med sex månaders provanställning
Lön: Fast månadslön
Arbetstid: Dagtid Mån – Fre
Sista ansökningsdag 30 september
Ansökan
Urval sker löpnade. Har du frågor om är du välkommen att kontakta HR@bluestep.se eller daniel.backlund@bluestep.se. Vi ser fram emot att höra av dig!

Du behöver inte inkludera något foto i din ansökan.
Department

Locations

Remote status

Hybrid Remote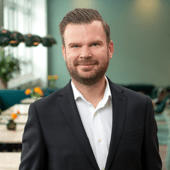 Contact
Daniel Backlund
Head of Customer Center – Sales and Customer Service
About Bluestep Bank
At Bluestep Bank, we are passionate about enabling more people to get a mortgage loan. To realise your plans, dreams, and ambitions - whoever you are. Our goal is to increase financial inclusion in society in a responsible way; by embracing our customers' differences and focusing on their future potential.
As part of our company, you will be part of an open-minded and inclusive culture, characterized by engagement and innovation where we dare to challenge and change. We believe in the values of cooperation and different perspectives. For the right person, we provide great opportunities for an exciting career.
Welcome as you are.
Sales and Customer Service
·
Stockholm
·
Hybrid Remote
Customer Support Handler
Loading application form